Bespoke commercial floor cleaning service
Full insurance coverage

All work done by the UK flooring technicians is covered by a public liability insurance.

Same-day & weekend service available

You can schedule an office floor cleaning for any weekend and bank holiday.

Odour-free cleaning methods

Forget about the permeating smell of chlorine – our products do not contain any chemicals and will achieve better results without leaving unpleasant odours behind.

Swift and efficient work

All flooring specialists will follow strict company procedures to ensure that every tile and joint is sparkling clean. Your flooring will be available for use as soon as all work is done.

Eco-friendly, natural products

We use only tried & tested cleaning solutions that will not harm your flooring or the environment.

No minimum contract obligations

Hire the professionals for as much time as you need until you're satisfied with their work.

Restoration of all floor types

The technicians can revive a variety of flooring surfaces: vinyl, marble, terracotta, linoleum, ceramic and thermoplastic tiles, terrazzo, marble, granite, natural stone, slate, and wood floors.

24/7 customer care

Feel free to ask questions, make bookings, or request price quotes at any convenient time.
Commercial floor cleaning
Step 1: Your floor's material and current condition is carefully evaluated in order to apply the most suitable sanitising technique and products.
Step 2: The technicians move the furniture out of the way. In order to save some time, we recommend moving the furnishings yourself before the start of the service.
Step 3: The team vacuums the flooring to dispose of dust particles and various other debris.
Step 4: The appropriate cleaning solution is tested on a discrete part of your flooring. It will then be sprayed and carefully scrubbed (for non-wood floorings only) into the surface.
Step 5: The surface is thoroughly rinsed to wash off the detergent and all accumulated filth.
Step 6: The specialists dry the area off. If that is not possible, it will take about 2 hours for the liquid to evaporate on its own.
Step 7: Upon request, the team can also seal, wax, or polish your flooring for added protection.
We are certified: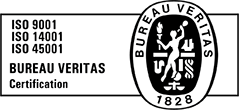 Floor sealing and polishing
In order to reseal your flooring, the existing floor polish will need to be stripped fist. Here is the whole process in more detail:
The cleaning professionals come for an on-site visit to see how much of the old sealant is already in place and to give you a final price estimate for the service.
They will remove the old polish to prepare the surface for the new finish.
The new finish is applied, which will protect your flooring for many years to come.
Floor polishing is done when there is no proper sealant in place. To fix this, the team:
Evenly spreads out the new sealant until the entire surface is properly levelled.
Polishes the surface with high-speed rotating equipment to make your flooring shine.
In addition, the technicians can add an extra protective layer to tiled and natural stone floors by treating the surface with a water-based sealant. The sealant does not contain silicone or toxins of any kind and leaves little to no odour. It is also fully biodegradable and will protect the flooring from general wear and tear.
Methods for treating wood floors
There are various restoration methods, depending on the flooring's condition and material:
Surface cleaning and buffing

is best done if the flooring is covered by a thin layer of dirt.

Sanding & re-sealing

is the way to go if the flooring is showing signs of wear – scratches, cracks, and other defects that allow dirt to become deeply ingrained into the wood. Stripping, deep cleaning, and polishing procedures are highly recommended for all types of commercial establishments where high traffic is the norm.
Businesses that trust our services
Property management
Hotels
Retail
Healthcare
Food services
Sport and Leisure
Public sector
Other
We recognise the difficulties within your business sector and can help you solve them by offering a healthy range of personalised solutions. Contact us
Their professional services and efficient work are of high standard and we have been very pleased with the work they have done for us.
Kristina Marie Bedford
Collier Contracts Limited
More services for your business
Have your property flooring shining bright in one single visit
Book commercial floor cleaning & repair for a healthy workplace
Get in touch