Why should you get a living wall installed?
Improving the air quality and aesthetics of your business space

A beautifully constructed living wall, designed to blend with other features, will yet bring contrast and have a striking effect. Attract visitors and clients with an aesthetically pleasing display and a thoughtful business environment, which also purifies the air by reducing CO2 emissions!

Versatile designs, safeguarding urban biodiversity

We will present you with several green wall system design ideas that are in tune with the specificities of your installation site. The result will be not only impressive decor but also a consciously created bio-system that embraces life.

Providing remarkable thermal and sound insulation

A lush living system, thriving on one of the exterior walls of your property, has a proven acoustic benefit, as it reduces the noise and sounds of the busy city. In addition, a green wall has strong insulating properties, which means that energy waste will also be significantly decreased.

A true biophilic approach to design

Vertical gardens undoubtedly have a positive impact on the mind and soul through connecting us to Nature, which brings peace and positive emotions in our daily lives. They also reduce the urban heat island effect, which makes them an environmentally friendly property feature, as well.

Professional advice and design consultations

The specialists we work with will consult you on your options, based on the structure of the support wall and its location, on the technical requirements for successful installation (water and power supply, drainage outlets, etc.), as well as on any potential planning permission issues.

Expert installation and post-service maintenance options

We provide all the vertical garden components, in order to complete the project. The team applies attention to detail, technical skills and horticultural expertise for a beyond-expectation service experience. Professional green wall system maintenance is also strongly recommended and can be discussed additionally.

Trained & IRATA L1 and L3 certified specialists

The service will be provided by a fully equipped team of a certified technician and horticultural advisor, meaning any rope-access and irrigation-system aspects of the project, as well as all plant-related tasks, will be handled expertly and with your utmost satisfaction in mind.

Tailored service and customised approach

Whether you require a vertical garden installed outdoors, an interior living wall fitted in the entry hall of your premises in London, or you want a gorgeous green display for a special public event with all the trimmings like additional lighting, we can assist you by meeting your specific requirements.

Suitable for various types of premises

Fantastic Services serves commercial customers from a range of industry sectors, as well as various public services entities. Therefore, regardless of whether you want a living wall in your beer garden, on the facade of your office building or inside your shopping centre, we can help.

Flexible appointment schedule

We will work with your timetable and arrange a survey for a day and time that suits you best. The team will execute the service with your business operations in mind, meaning, they will complete the job without disrupting your daily activities.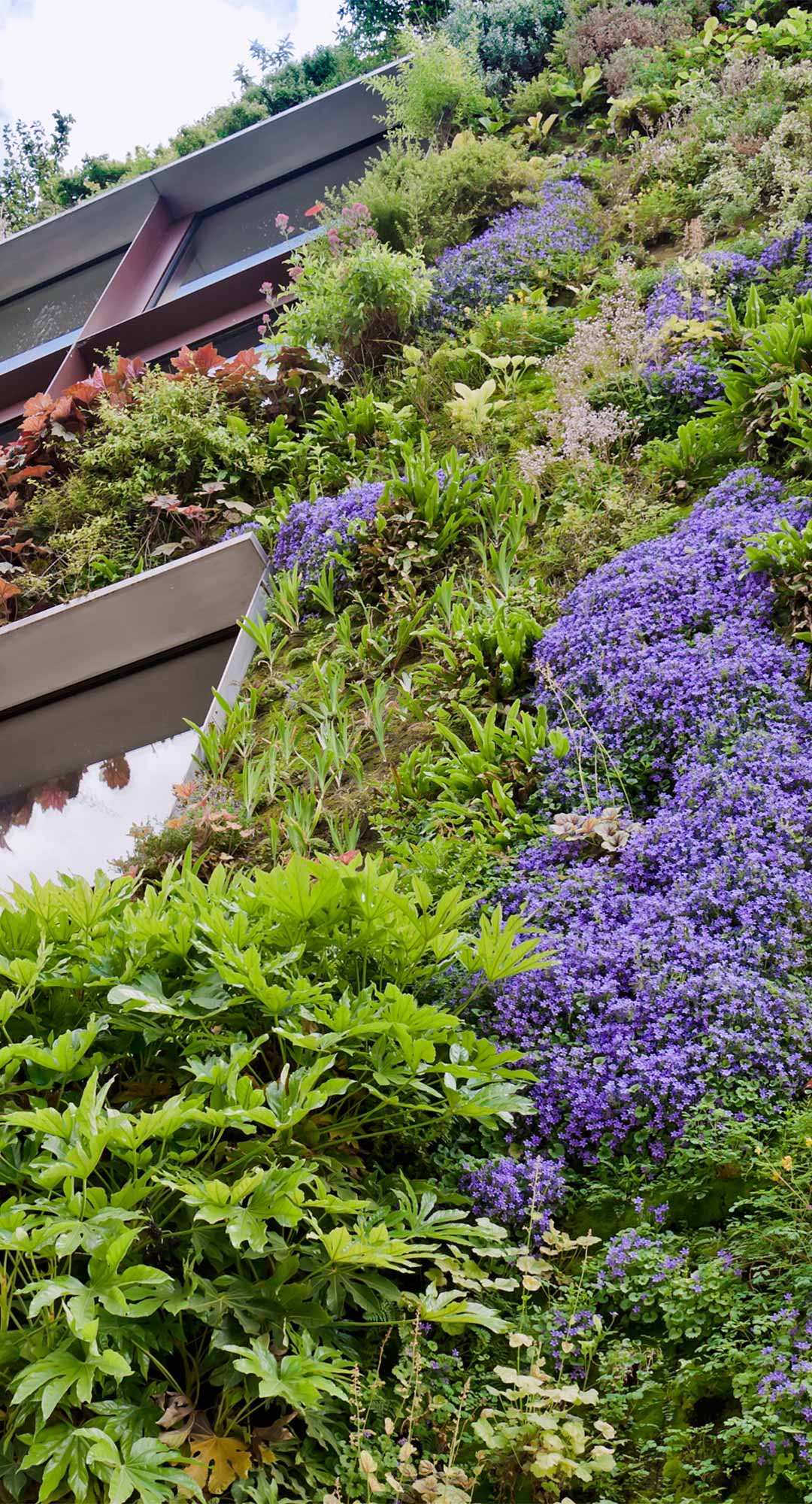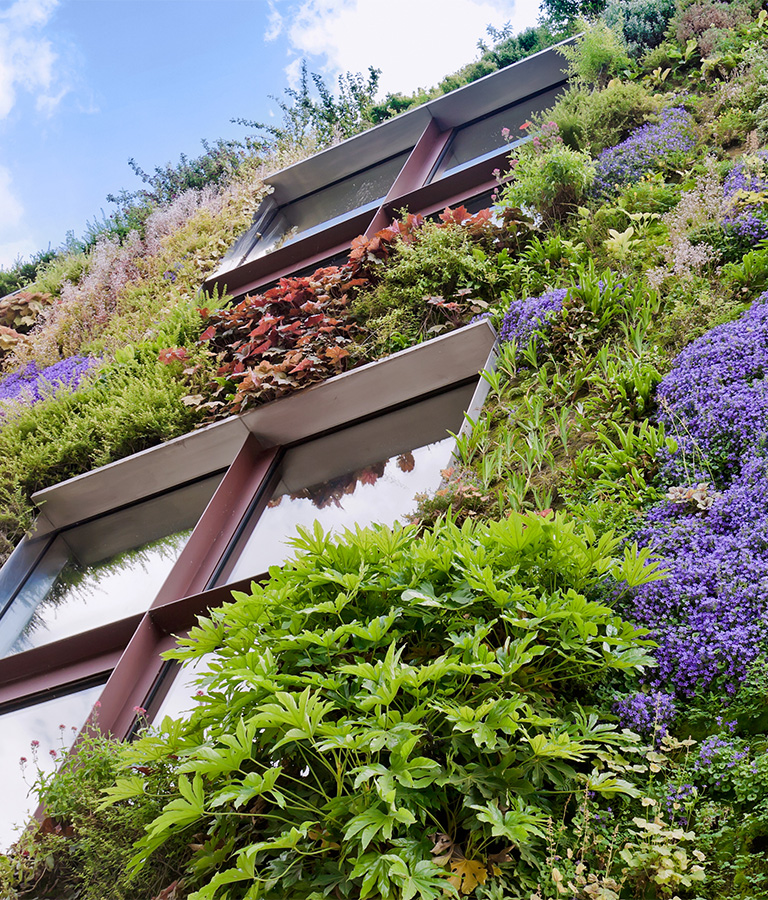 Specific requirements for a green wall construction
Sustainable greening of facades improves cityscapes through purposeful design and strong visual impact. To benefit from a living architectural feature in your commercial property in London, however, a few requirements should be observed.
Electrical supply

A convenient electrical outlet (240V) should be in close proximity to the irrigation system installation site.

Available space for the irrigation system

Although the size of your green wall will dictate the following, approximately 1sq.m of floor space, as well as 1,5 m of free space against the support wall, are required to accommodate an automated irrigation system. This can be customised, of course, if needs be.

Water supply

The irrigation system should be fed with fresh, untreated water and the supply outlet needs to be near the site.

Drainage

Unless you opt for recirculating irrigation, a drainage outlet is required at the base of the wall.

Additional lighting

Should you wish to have a uniquely lit green wall, you will be advised on the technical lighting requirements on-site by our team.
Furthermore, each project is unique, therefore, other specification requirements may arise, depending on what type of vertical living property feature you wish to install.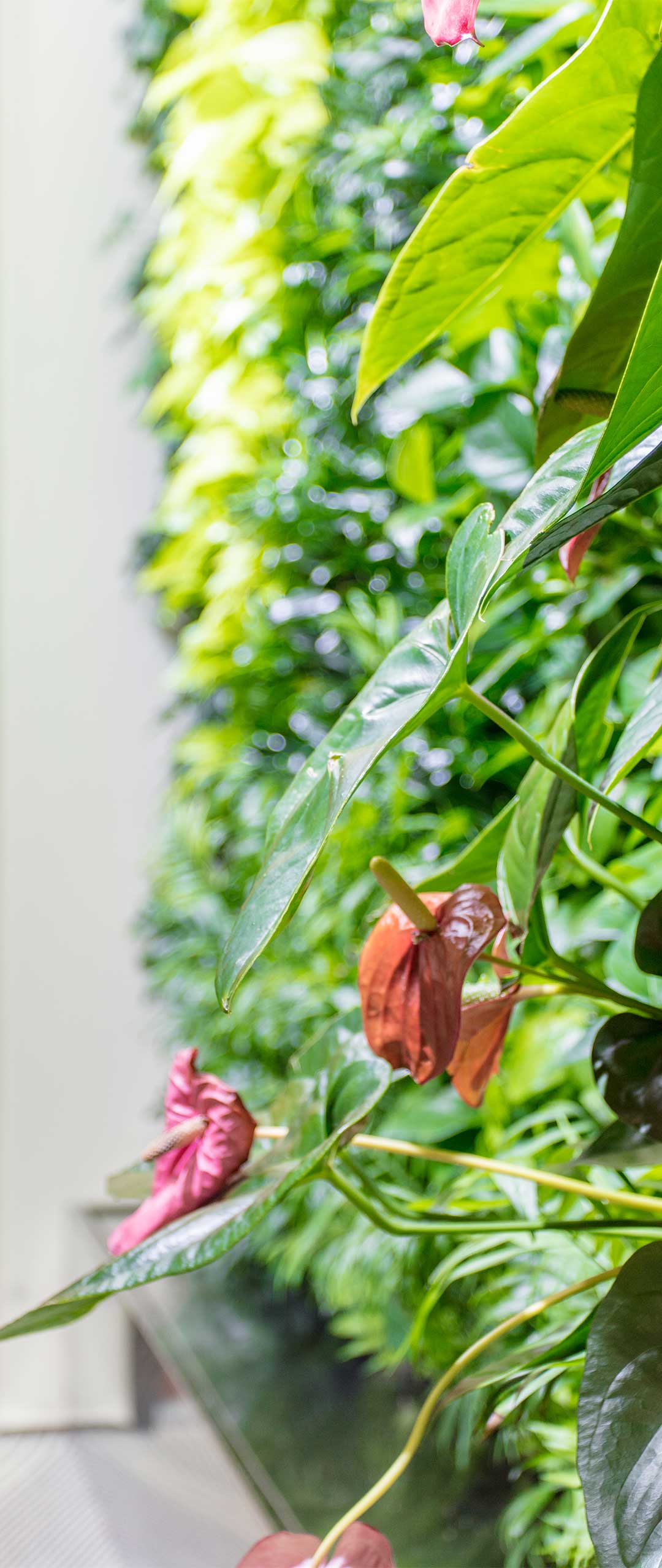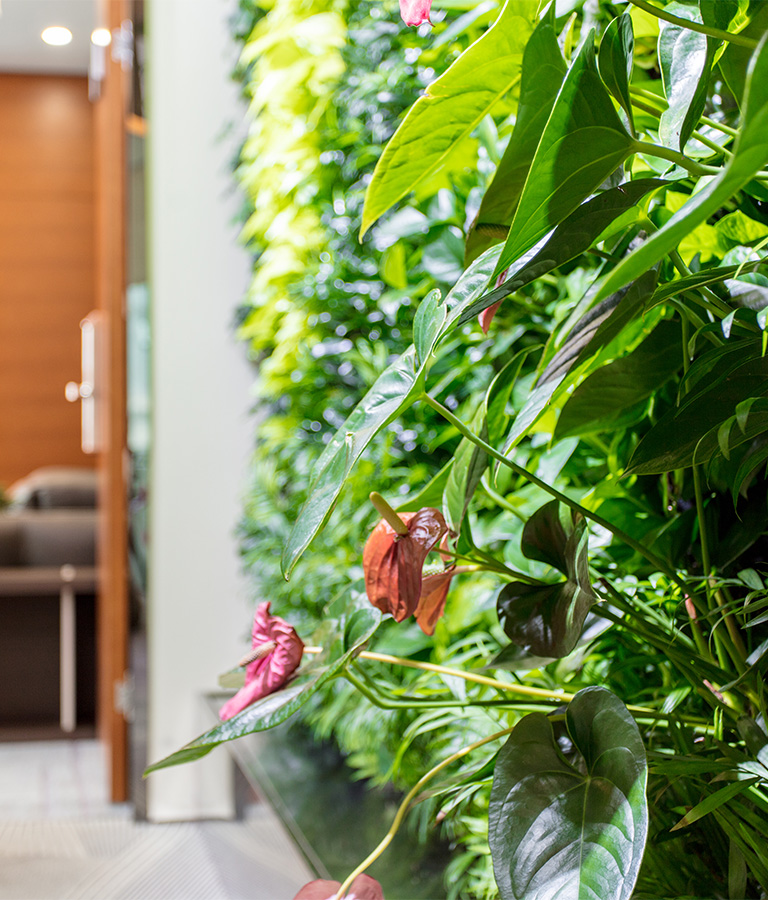 What the living wall service entails
The experienced and qualified team will first meet you to discuss your eco-wall vision and consult you on various possible designs if needed. During the preliminary survey, all technical specifications will be evaluated and confirmed, regarding the appropriate subframe, the right irrigation system and the ideal plant species, which will be subsequently planted on-site when the actual service takes place. We will come up with a unique sustainable green wall design that meets your business space needs and creative perception.
Below are some of the key points of our living wall installation process:
1. Providing all green wall components

We will supply all the materials, from the plant varieties and irrigation system of your choice to various structural elements, such as the subframe (steel or timber), plant membrane, steel fixing rale, etc. It's good to mention here that the entire structure is fire resistant, complying with the BS476 Part 6/7 standard.

2. Living wall installation

The specialists will install the frame and plant the greenery for an immediate striking effect. Your vertical display can incorporate selected evergreens if you wish to have an all-season living architectural feature. Note that no pre-growing of plants will be required, so you can enjoy the results instantly. The integrated watering system will be expertly fitted at this point, as well.

3. Eco-wall maintenance services

We also offer maintenance services, designed to keep your vertical garden in perfect shape. As some upkeep tasks should be executed by professionals, certified to work at heights, it's best to leave the job to our expert teams. From checking the feeding and watering schedule to trimming foliage and removing spent leaves, we will make sure that your green investment is well-maintained and in optimal health.

4. Additional options

As mentioned above, Fantastic Services offers bespoke vertical garden solutions, therefore, we can tailor our assistance to your exact specifications. This means that you can choose the type of plant species, for instance, and have a moss wall or evergreen standing feature as part of your property exterior. In addition, you may decide on an easier option, maintenance wise, and have an artificial green wall installed, despite the fewer benefits you would enjoy with it. And last but not least, you can book us to create a stunning roof garden or a vertical green display on the terrace of your commercial property.
Businesses that trust our services
Property management
Hotels
Retail
Healthcare
Food services
Sport and Leisure
Public sector
Other
We recognise the difficulties within your business sector and can help you solve them by offering a healthy range of personalised solutions. Contact us
More services for your business
Impress your customers by installing a living wall on your premises!
For a greener and more nature-conscious business outdoors or interior, get in touch now!
Request a survey